Helen is a beautiful soprano with an alluring and enchanting voice, a voice that commands an audience. When Helen unleashes her musical talent, everything stops to the degree that if it wasn't for her you could hear a pin drop. Pitch perfect with whatever she sings, from opera, classical and contemporary. 
Helen might look demure and of slight stature but she's s a powder-keg of a performer. She delivers power and emotion with every note she sings and will have you riveted to the spot with anticipation of the next note from her lips.
Helen can be seen performing in different ways. 
Helen As A Soprano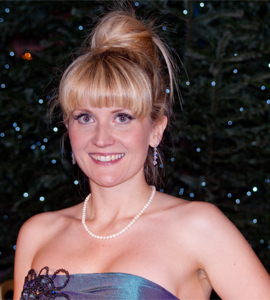 When performing at a weddings or civil ceremonies, irrespective of the location or venue, be it a church or cathedral, village hall or registry office, she adds more than a bit of class and elegance to proceedings.
Helen is professionally trained to such a high standard it beggars belief however. Although she's confident and pleased about her high standard of delivery, she can be self-deprecating about her own talent and performances. She herself will tell you that she will never be fully satisfied with herself as her voice is constantly developing, maturing and getting better and stronger all the time.
As A Singing Waiter
Sometimes when you least expect it Helen and her very talented team of musical performers will be seen emerging out of the ranks of regular waiting on staff in hotels and entertainment venues across the country. This side of her has seen her appearing on a number of TV shows including The Real Housewives of Cheshire on ITVBe alongside Ester Dee and all the other ladies that make the show what it is. She has also be seen singing on other shows such as Four In A Bed on Channel 4, these along with countless wedding videos over the years.
As A Screaming Beaver
As a Beaver, she packs a punch and really cuts loose when performing lead vocals with The Screaming Beavers, one of the countries top Soul & Funk Bands. As part of this remarkable band, she covers some of the best and well known floor filling, get down and boogie tunes known to man. The unassuming pocket rocket known as Helen England transforms from a demure prim and precise, pitch perfect soprano into a Queen of Soul.